Support for freedom of speech, one of the most important American values, relied on the diffusion of satirical cartoons and writings that did not hesitate to criticize religion. English painter William Hogarth mocks a Revivalist preacher, while others choose to turn Catholics prelates into crocodiles. Funny cartoons, however, could also be used to raise awareness on various social issues.
Anti-Catholic cartoon (28)
These bishops-turned-crocodiles coming out of the water to catch children express the ancestral fear of American Protestants towards the Catholic Church. Thomas Nast, its author, illustrates the debate on the wish of American Catholics to open private confessional schools. A revolt led by Protestants opposes this, as it would weaken a public school system avaiable to all and its mission to educate young Americains on freedom and democracy.
Thomas Nast, The Ameerican River Ganges,, 1871, newspaper drawing, on loan from the Deutsches Historisches Museum in Berlin, inv. ZB 7527-19.1875,958.
Credulity, Superstition, Fanaticism (29)
This English engraving by the famous painter William Hogart in 1762 criticizes the enthusiastic Methodist faith. As an artist of the Enlightenment, Hogarth mocks the most famous preacher of the Awakening. English-American Georges Whitefield, perched on a pulpit, is depicted as wearing a Harlequin vest and reading notes that say "I speak like a madman". The rest of the engraving follows a similar pattern. The most sober figure in the scene is a Turk thanking Heaven for being rational.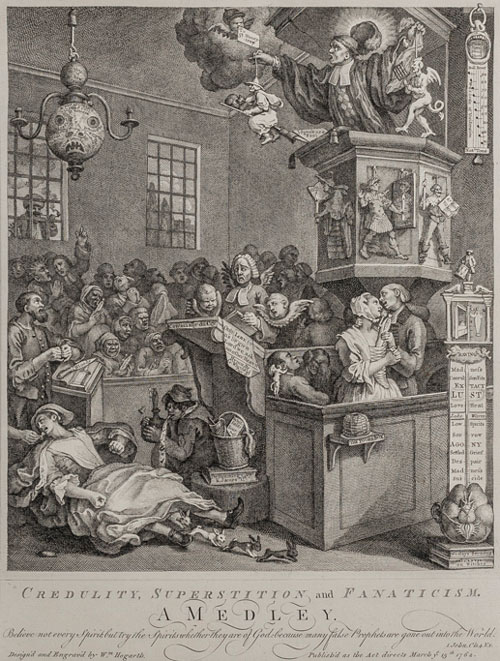 William Hoghart, Credulity, Superstition and Fanaticism, 1762, engraving,
on loan from the Teylers Museum, Haarlem (NL), inv. KG 15057
Ethyl is not a lady (30)
This 1959 brochure presents alcohol consumption in the guise of a woman, Ethyl (similar-sounding to the first name Ethel), who does not behave like a "lady". It ends on a Christian justification of temperance. Ever since its foundation, America has been suspicious of alcohol consumption. Numerous campaigns have sought to curb it, culminating in the Prohibition which was enshrined in the Constitution. This ban lasted from 1920 to 1933.
"Ethly is not a Lady", Brochure, 1959, on loan from the Presbyterian Historical Society of Philadelphia.