Although slavery was largely fought against by various American churches, many Christians justified its practice and took part in the trafficking of slaves between Africa and the United States. Bibles were even manipulated in this perspective, and violent forms of struggle against abolitionism emerged in the 19th century. 
Slave shackles (34)
600'000 Africans were brought as slaves in the United States between 1619 and the beginning of the 19th century. These shackles were used to hinder a victim during his or her transatlantic journey. Despite the abolitionist fight during the 19th century, life for many African-Americans remains difficult, as illustrated by present-day tragic events. The story of Hebrews' liberation from the chains of slavery was very popular in the many black churches that developed throughout the 19th century.

Slave shackles, on loan from the Lest We Forget Museum in Philadelphia.
Slave Bible (35)
This Bible was designed in the 19th century to justify slavery. All passages relating to liberation themes were deleted, such as several episodes from the book of Exodus and the Psalms. The book includes the command Obey your earthly masters from Paul's Letter to the Ephesians, but the passage from the Galatians stating that in Christ there is neither free nor slave has been removed. 90% of the Old Testament and 50% of the New Testament have disappeared from this book.
Slave Bible, 1807, facsimile on loan from the Fisk University Library, Nashville.
A cross set ablaze by the KuKluxKlan (36)
Founded in 1865 in Tennessee against a backdrop of racial turmoil, the KuKluxKlan was named after the ancient Greek word Kuklos, which means circle. During the first phase of its existence, this secret and violent society was exclusively anti-abolitionist. With its rebirth around 1915, it also turned against Catholics, Jews and Communists, in the name of its defense of white Protestantism inherited from the Founding Fathers. The burning cross refers to an old Scottish ritual of declaration of war.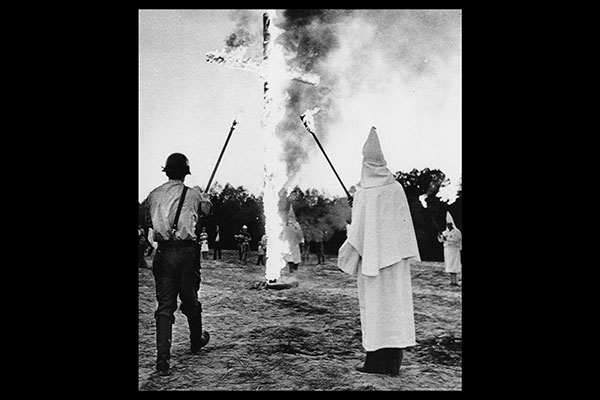 KKK members in front of a burning cross,
Presbyterian Historical Society of Philadelphia. Facsimile.