The Bible is a staple of American culture. More than half of Americans read it at least once a year, as indicated in section XXII. It encountered several specific editions, such as the Jefferson Bible, the women's Bible or a Korean missionary Bible. The Mormons are inspired by another writing, the Book of Mormon, which is based on a more recent revelation of Christ.
Korean Bible (37)
This Gospel of Luke translated into Korean symbolizes the missionary role developed by the United States in many parts of the world. At the end of the 19th century, American missionaries reinforced the anchoring of Christianity in Korea, a country that was looking for allies beyond its Chinese and Japanese neighbors, whose influence it feared. The great flexibility of American Protestantism favored its development in an egalitarian society concerned with maintaining traditions.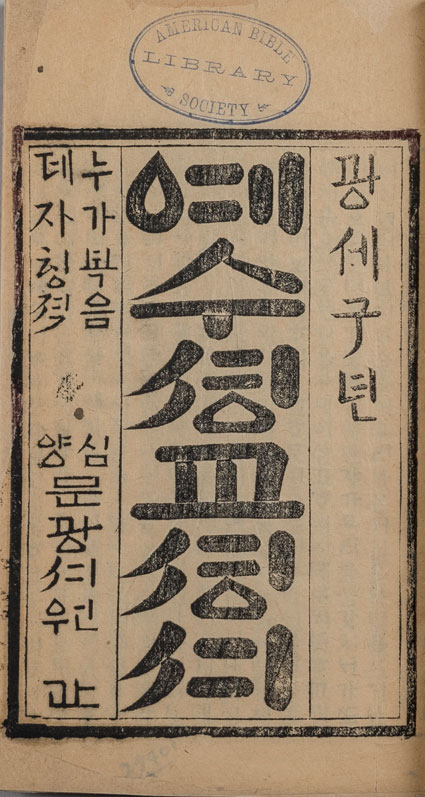 Korean Bible (excerpts), 1883, on loan from the American Bible Society, Philadelphia.
Jefferson Bible (38)
Thomas Jefferson (1743-1826) was the third President of the United States and one of its most outstanding. A highly cultivated man, he wrote the First Amendment to the U.S. Constitution on religious freedom. His religious views led him to reject the supernatural revelation, as evidenced by his famous New Testament from which he removed with a razor the miracles of Jesus and his resurrection.
Jefferson Bible, 1820, Smithsonian National Museum of American History, facsimile edition.
The Woman's Bible (39)
The Woman's Bible is a commentary on all the misogynistic passages of the Bible published in 1895 by a group of female scholars led by Elisabeth Cady Stanton (1815-1902). To this New York feminist activist, the Bible is a human work whose passages justifying the oppression of women must be questioned. They are historical constructions instrumentalized by churches to perpetuate gender inequality. The reception of this work was negative for a long time.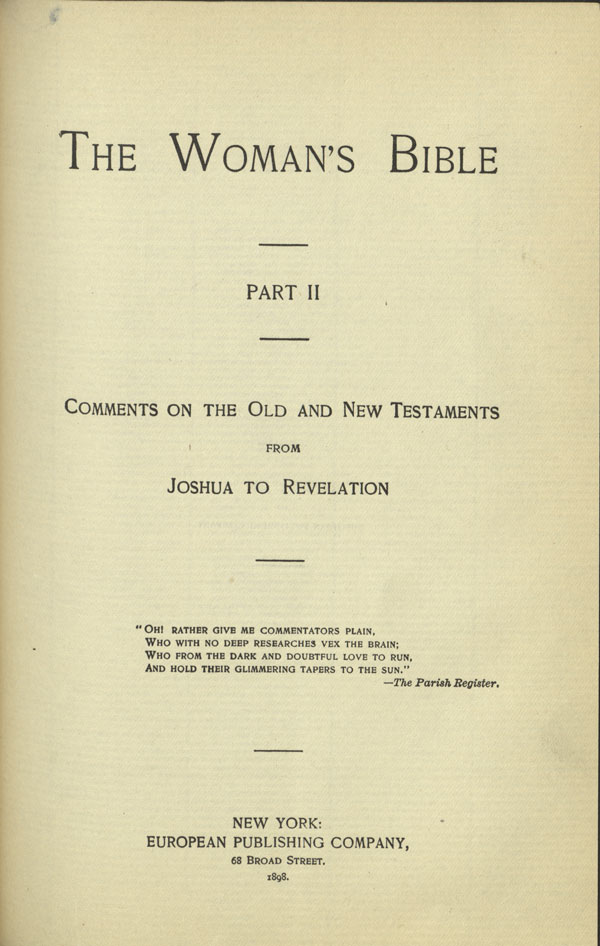 Elizabeth Cady Stanton, Woman's Bible,
Rubenstein Library-Duke University, facsimile.
Book of Mormon (40)
In 1823, the American John Smith claims that an angel revealed to him the story of the prophet Mormon who lived in the 4th century AD. At that time, Jesus is said to have appeared to the descendants of Hebrews who emigrated to America around 600 B.C., telling them that they embodied the authentic Church, that of Jesus Christ, of the Latter-day Saints. Today, the Church has 16 million followers, six million of whom are in the United States. They are inspired by this story, presented here in its first French edition.
Book of Mormon, 1907 (first French edition in 1853), Loan from the Church History Library, Salt Lake City