Christianity in the USA has done much to instill justice and solidarity in a recent country that had to invent its own social policies. Walter Rauschenbush and Andrew Canergie each made their contribution, in different ways.
Social Christianity (8)
Walter Rauschenbush (1861-1918) was the father of social Christianity. The great poverty he witnessed as a pastor in New York convinced him to abolish the sometimes too rigid distinction between religious and social life. The fight against poverty is a commandment prescribed by Christ, whose ideal must be embodied today in a world of justice. This thesis was arguedd in "Christianity and the Social Crisis" (1907), one of the landmark works of 20th century theology in the United States.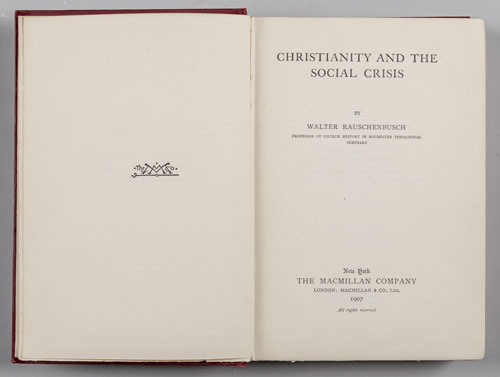 Walter Rauschenbush, Christianity and the Social Crisis, 1907,
first edition, on loan from the American Baptist Historical Society.
The Gospel of Wealth (9)
Andrew Canergie (1835-1919) was one of the richest men of his time. Being a steel industrialist during a century that consumed an infinite amount of steel, this Scottish-born man came up with an ambitious theory on philanthropy. In the "Gospel of Wealth" written in 1889, he criticized the hereditary transmission of wealth and consumerism in favor of a redistribution of wealth that favored the reduction of poverty through access to work. Protestant ethics are not far away…
The Gospel of wealth, New York, 1901, On loan from the Athenaeum of Philadelphia.