Abolitionism of slavery had a major impact on American history. While some proponents of slavery have sought to justify it using the Bible (see section XII), several abolitionist activists have drawn their values from their Protestant faith, especially Harriet Beecher Stowe, author of the best-seller Uncle Tom's Cabin, or John Sewall, who wrote the first anti-slavery tract in the country, The Selling of Joseph. An abolitionist teapot, the poems of Phyllis Wheatley, America's first black writer, and a photo of the Fisk Jubilee Singers, the first Gospel choir in history, bear witness to these movement that fought for the dignity of African-Americans.
Writer and abolitionist (17)
Harriet Beecher-Stowe (1811-1896) was born into a family strongly influenced by Protestantism. Her father and seven of her brothers were pastors. Two of her sisters fought for women's right to education and political vote. As a novelist, she fought for the abolitionist cause. Her book Uncle Tom's Cabin would have a decisive influence on public opinion. At the beginning of her career, she published The Mayflower (1843), a portrait gallery of America's pioneers.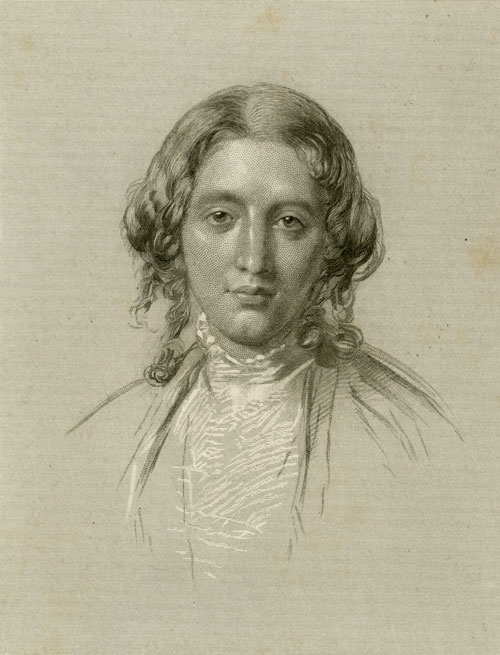 Portrait of Harriet Beecher Stowe, 1855,
Library Company of Philadelphia. Facsimile.
First abolitionist leaflet (18)
In 1700, businessman Samuel Sewall (1652-1730) published the first abolitionist tract in American history. Referring to the biblical story of Joseph being sold by his brothers, he argues that subjecting someone to slavery is contrary to freedom, whose value is as important as life itself. For the record, Samuel Sewall was one of the prosecuting judges in the Salem Witch Trial seven years earlier. He was the only one to admit to regret his role in the trial.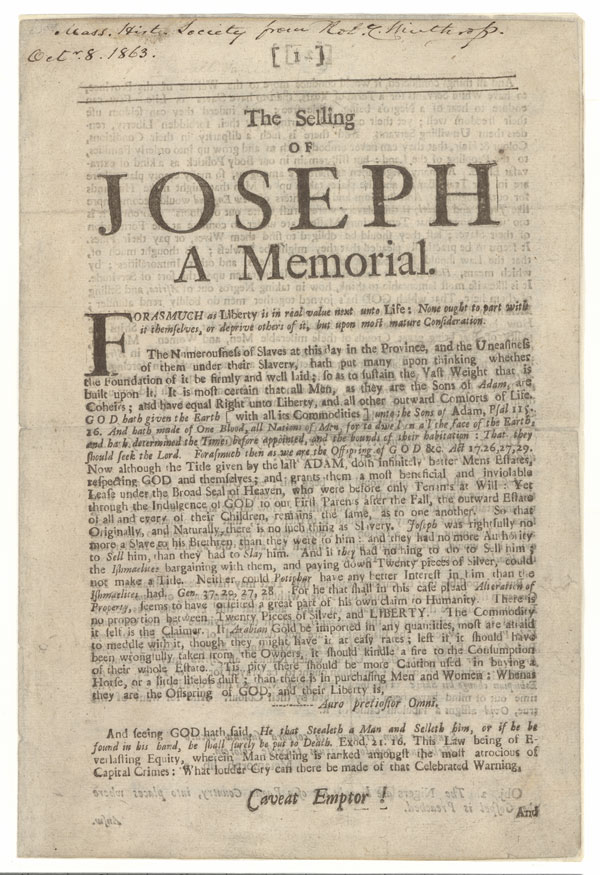 The Selling of Joseph, 1700, Massachusetts Historical Society,
Boston. Facsimile.
Abolitionist Teapot (19)
This delicate 1830 teapot was probably brought to the USA by a Quaker and his emancipated slave after a lecture tour in England against slave trade. It depicts a black man on his knees, begging, with his hands tied. This common motif was the emblem of the English Society for the Abolition of Slave Trade, founded in the 18th century. Only unsweetened tea was drunk from this teapot, sugar being the symbolic substance of the exploitation of black slaves.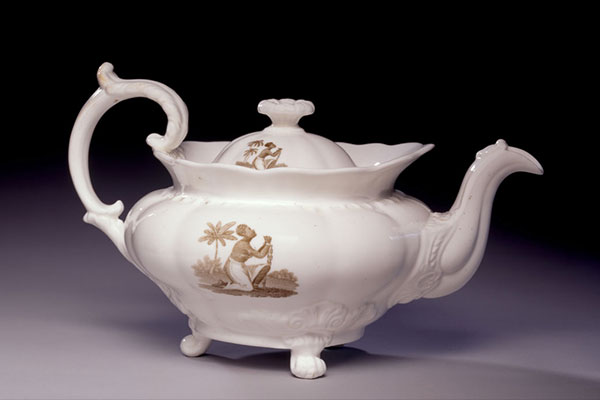 Abolitionist teapot, 1830-1840, on loan from the Historic New England Museum. Gift of Alice and Emil Ahlborn, 1961.168A.
Uncle Tom's Cabin (20)
Uncle Tom's Cabin was the second best-selling book in the United States during the 19th century. Harriet Beecher Stowe published it in 1852 to fight against a law that regulated the capture of a runaway slave. It is the story of a good-natured black slave and the virtues of Christian love.Its success weighed in the outbreak of the Civil War. When Abraham Lincoln met the author, he allegedly greeted her by saying: "So you're the little woman who wrote the book that made this great war!"
Uncle Tom's Cabin, 1st edition, Boston 1852, on loan from
the Athenaeum of Philadelphia.
Slave and poet (21)
In 1773, 39 poems written by an African-American woman were published in Boston. Phyllis Wheatley had arrived as a slave in America from Africa at the age of eight, and was challenged to prove that she wrote the poems herself: a jury of 18 personalities, which included the Governor of Boston, interviewed her. A poem to the glory of the famous reverend George Whitefield made her famous. Voltaire admired her "very beautiful English poems".
Phyllis Wheatley, Poems on Various Subjects, Religious and Moral, 1773, Massachusetts Historical Society, Boston. Facsimile.
The Fisk Jubilee Singers (22)
In 1871, Fisk University in Nashville experienced serious financial trouble. Created after the Civil War to allow African-Americans to study, Fisk chose to set up an a cappella choir of five women and four men to raise funds by giving concerts all over the country. They became a national sensation. The choir performed Negro Spirituals which, for the first time, became known beyond churches and an especially popular musical genre.
Photo of the Fisk Jubilee Singers, Fiak University Library, Nashville, facsimile.