8 Preachers in Film History
5 Gowns Designed by Albertine
The Protestant pastor is a very profound figure, and there is more to him or her than the anonymity of the black gown leads to think. They can be – at the same time or alternately – a preacher, a revolutionary and a guide. They also know how to be a consoler and a mediator of the sacred. Famous film directors have used these Protestant priests as dramatic resources and fascinating characters.
In its "Compagnie" hall, the MIR screens an original montage of about twenty minutes made up of eight extracts from classic films. Pastors are seen through the lens directors such as Michael Haneke, Charlie Chaplin, Alain Resnais or John Huston.

Alongside, five gowns designed by Albertine will also be displayed in the Salon. They reflect the typology listed by French theologian André Gounelle, which underlines the specific ways ministers carry out their mission: as a Prophet, a Shepherd, a Leader, a Spiritual Director or a Priest.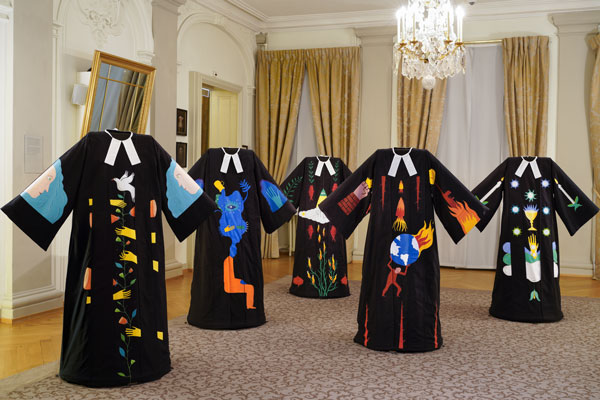 Prices: CHF 13 / 8 / 6 including access to both the temporary and the permanent exhibitions.
Download the exhibition brochure