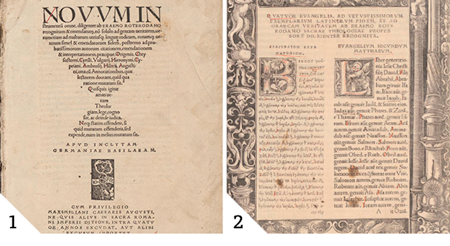 In July 1515, Erasmus (1466?–1536) travelled to Basel to begin work on his edition of the New Testament in Greek. He based his text on Greek manuscripts belonging to the Dominicans of Basel and on passages from the Vulgate, which he translated himself. He was assisted in this task by Oecolampadius (1482–1531), who later became a leading figure of the Reformation in Basel.
Work must have progressed quickly, since printing began in October of the same year. On 1 March 1516, Erasmus's bilingual edition in Greek and Latin, entitled Nouum Instrumentum omne, issued from the press of the famous Basel printer Johann Froben (c. 1460–1527). The Greek text is on the left-hand side of the page and the Latin translation based on the Vulgate on the right. Several editions appeared in close succession, accompanied by Erasmus's "Annotations".
The second edition was published in 1519, under the more usual title of Nouum Testamentum omne. Erasmus increased the number of annotations and offered a new Latin translation from the Greek, which was more faithful to the original.  Martin Luther (1483–1546) used this second edition for his German translation of the New Testament, known as the "September Testament", because it was published in September 1522 in Wittenberg.
William Tyndale (1494–1536) likely relied on the third edition of 1522 for his first English translation of the New Testament, published in Worms in 1526. Robert Estienne (1503–1559) also based his New Testament in Greek on this edition, as did the authors of two famous English translations, the Geneva Bible (1560) and the King James Bible (1611).
Erasmus's seminal work thus served as the basis for most translations of the New Testament published between the 16th and the 19th century.
In 2016, several of Basel's leading cultural institutions are commemorating the 500th anniversary of the first edition of Erasmus's New Testament through a joint celebration entitled "Erasmus MMXVI", comprising a variety of events throughout the year. The Basel Historical Museum will present the exhibition "Schrift als Sprengstoff" ("Explosive writings") from May to September. From June to November, the Basel University Library hosts an exhibition at Basel Cathedral about the 1516 edition. The Pharmacy Museum will explore the world of printer Johann Froben from May to September. Finally, from September 2016 to January 2017, The Kuntsmuseum will explore the image of Christ at the time of Erasmus.
Samantha Reichenbach, curator