"An abbreviated image of his century" in the words of Sainte-Beuve, Agrippa d'Aubigné (1552–1630) divided his life equally between the pen and the sword. A stalwart follower of the future King Henri IV, the "Warring Huguenot" was also one of the greatest poets of his time, vividly describing the horrors the wars of religion in his epic poem Les Tragiques.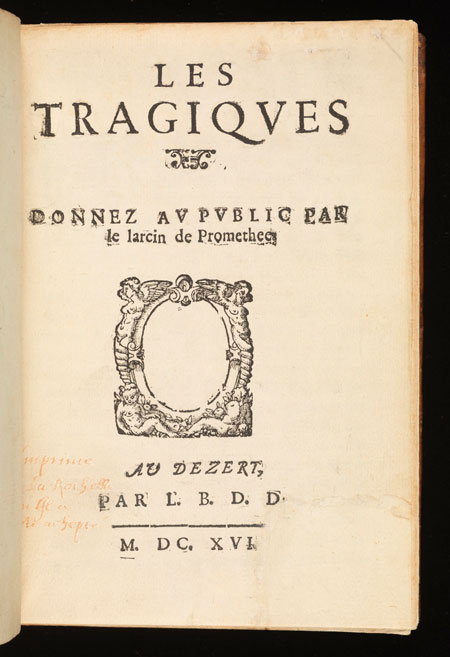 Agrippa d'Aubigné, Les Tragiques, [Maillé], 1616. Title page of the first edition. Fondation Martin Bodmer. © FMB / Naomi Wenger 
"An abbreviated image of his century", in the words of Sainte-Beuve, Agrippa d'Aubigné (1552–1630) was equal parts warrior and writer. A child prodigy, he translated Plato's Crito at the age of seven and a half and studied with renowned humanists. He was confronted early on with the horrors of the civil war: in 1560, his father took him to see the sad spectacle of the Huguenots hanged for their role in the Amboise conspiracy, and said, "My child, let not your head after mine be spared to avenge these worthy leaders. If you shirk this duty, I shall curse you!" Those words would determine the course of the younger d'Aubigné's life – he never broke his promise to his father. Even as a boy he was unafraid to affirm his Protestant faith, declaring when stopped by Catholic soldiers that "he feared the Mass as much as he feared fire."
After a short stay in Geneva to complete his studies, Aubigné enlisted in the Protestant army with only the shirt on his back, a romantic beginning for what was to be a long military career. Jarnac, Casteljaloux, Coutras, Arques, Ivry: he was present at every battle or siege of the third war of religion to the eighth and last. Named equerry to Henri de Bourbon-Navarre in 1573, he served him faithfully in times of adversity, but was unable to stomach the realpolitik decision of the new King Henri IV to convert to Catholicism. Disgusted with the Protestant party's concessions, the "fierce partisan", as he described himself, retired to his fortress of Maillezais, in Poitou. In 1619, he was forced to flee to Geneva due to his involvement in a rebellion led by the Prince de Condé. He settled at the Château du Crest with his second wife, Renée Burlamacchi, and devoted his final years to writing.
Aubigné left an extensive and highly diverse oeuvre, ranging from love poetry and religious verse (Petites œuvres meslées), to essays on politics and history (L'Histoire universelle), as well as a comic novel (Les Aventures du Baron de Fæneste). But the work widely regarded as his masterpiece is his great epic poem Les Tragiques, in which he denounced the horrors of the civil war and condemned the men responsible for it: "Mes cheveux estonnez herissent en ma teste : / J'appelle Dieu pour juge, & tout haut je deteste / Les violeurs de paix, les perfides parfaicts, / Qui d'une salle cause amenent tels effects : / Quel œil sec eust peu voir les membres mi-mangez, / De ceux qui par la faim estoient morts enragez ?" (The hairs stand up on my head with horror; as God is my judge, I raise my voice to denounce the violators of the peace, the perfect traitors, whose evil intent produces such effects. Who with a dry eye may behold the half-eaten limbs of those who died in agonies of hunger?) The 9000-line poem is divided into seven books, like the seven seals of the Apocalypse. The poet began his account of the Huguenot resistance against a tyrannical and decadent rule in 1577, while recovering from "wounds sustained in a great battle." It was published only 40 years later, in 1616, by Aubigné himself, on his private press at the Château de Maillé. The first edition was anonymous, claiming to have been published "In the Desert" by "L.B.D.D". These initials clearly stand for "Le Bouc Du Désert" (the desert ram), the nickname by which the intransigent Aubigné was known to his detractors. The poet acknowledged his paternity only on the title page of the second edition, published in Geneva ten years later.
Nicolas Ducimetière
Fondation Martin Bodmer