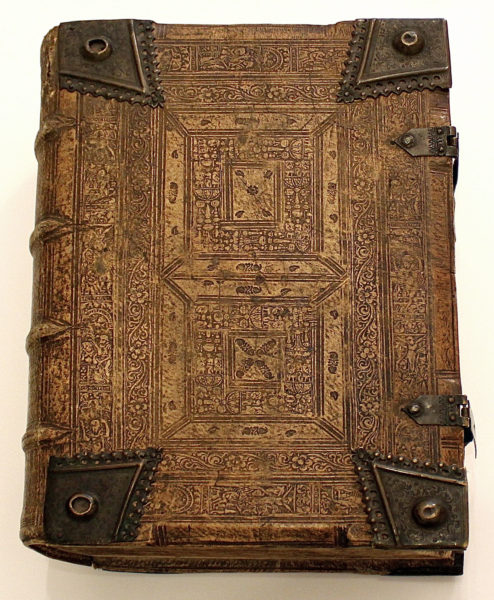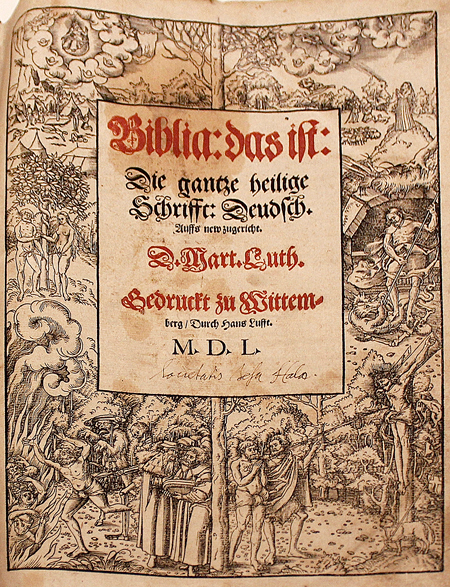 This Luther Bible, published in Wittenberg in 1550 (the first edition appeared in 1534), recently joined the Museum's collection. This large volume has an especially fine period binding, beautifully decorated with a great variety of motifs.
The frontispiece engraving represents scenes from the Old and New Testaments in a composition designed to establish a contrast between the two. The visual plane is divided by a tree at the centre. On the left, the Law is depicted as it appears in the Old Testament; for example, Adam and Eve are shown eating the fruit of the tree of life after being tempted by the serpent.
In opposition to the severity of the Law, the Gospel brings hope, as illustrated by the flowering boughs that spring from the tree trunk on the right, or New Testament, side. The resurrected Christ overcomes death and the devil. Thus Christ is victorious over the diabolical beast in contrast to Adam and Eve, who are vanquished by the serpent.
This composition – one of the most effective doctrinal images to issue from the school of Lukas Cranach the Elder – became one of the most popular themes of the Reformation. It may have been directly inspired by Luther's lecture on the topic of the Law and the Gospel. Hence, it became an obvious choice for illustrations of several editions of the Bible, including the title page of Luther's translation of the Bible that appears in this volume.