Here is a copy of an extremely rare four-volume edition of the works of this great French poet. Only two other complete copies of this first edition are known.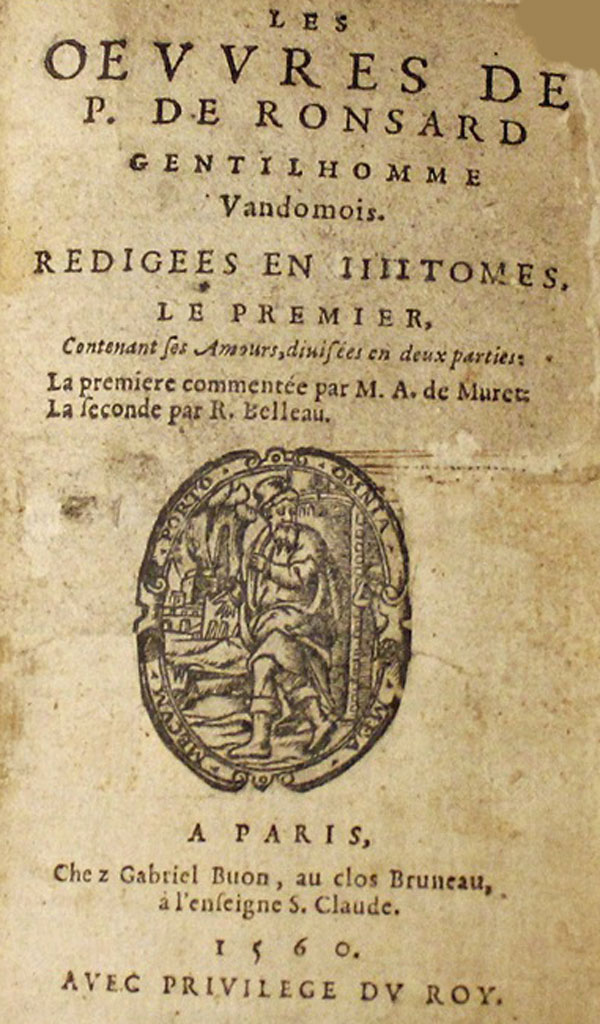 In his Discours des Misères de ce Temps (Discourse on the Miseries of These Times), Ronsard addresses queen Catherine de Medici to use her authority to put an end to the civil war that is tearing Catholics and Protestants apart.
Discours à la Reine
Las ! Madame, en ce temps que le cruel orage
Menace les Français d'un si piteux naufrage,
Que la grêle et la pluie et la fureur des cieux
Ont irrité la mer des vents séditieux,
Et que l'astre jumeau ne daigne plus reluire,
Prenez le gouvernail de ce pauvre navire,
Et malgré la tempête et le cruel effort
De la mer et des vents, conduisez-le à bon port.
La France à jointes mains vous en prie et reprie,
Las qui sera bientôt et proie et moquerie
Des princes étrangers, s'il ne vous plaît en bref
Par votre autorité apaiser ce méchef.