Discover our gift shop
The museum store offers a rich selection of books on themes and figures of the museum. Other items on offer include a jasmine-scented candle, a coloured leather notebook with the museum's embossed coat of arms, a canvas bag decorated with a portrait of Theodore de Bèze at the age of 24, the famous Calvinus beers and the store's best-selling "Je proteste" t-shirt.
In the spotlight
Each month, a book will be featured to help you discover unsuspected gems. Today, discover or rediscover Karl Barth, a fascinating and controversial figure who is nonetheless one of the greatest Christian theologians of the 20th century.
Basel theologian Karl Barth (1886-1968) is one of the stars of the new museum. In the contemporary spaces of the basement, he appears in three scenographic moments: on the walls of the 21 Protestant personalities of the contemporary era with a quotation in which he says that "God can speak to us by means of Russian communism, a flute concert, a bouquet of flowers or a dead dog". Nearby, in a display case, you can see his hand-annotated copy of the first edition of his seminal commentary on the Epistle to the Romans. A little further on, an installation invites visitors to meet him personally and hear him speak for two minutes on the question of revelation.
In "Karl Barth. Un penseur pour le XXIe siècle", the German theologian Christiane Tietz proposes a biographical trail to access the abundant work of this extraordinary personality, potentially capable of inspiring the future of theological reflection.
She will be at the museum on January 18 to discuss the subject with theologians Christophe Chalamet and Pierre Gisel.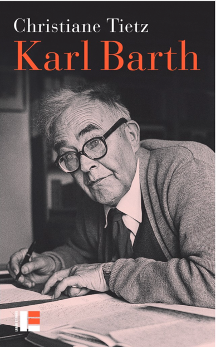 «Karl Barth. Un penseur pour le XXIe siècle» in French, 620 pages, 39 CHF in the museum store